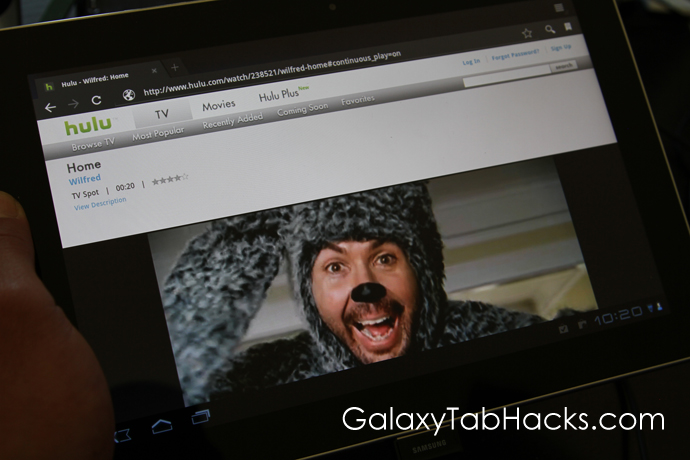 For those of you who want to stream Hulu on your Galaxy Tab 10.1, you no longer have to deal with the error message saying your device isn't supported.
By installing a modified version of Flash Player 10.1 and setting your browser's UA string to "Desktop", now you can stream Hulu on your Tab 10.1 any time you want.
How to Stream Hulu on your Galaxy Tab 10.1!
First, download the modified Flash Player 10.3 here:
Download modified Flash Player 10.3
Second, copy over the file to the root folder of your Tab 10.1′s internal storage by connecting your Tab 10.1 to your computer via USB cable.
Third, uninstall Flash Player (if you've installed it).
Fourth, use a file manager app such as the free AndroZip (available on the market) to install the modified Flash Player 10.3 you copied over earlier.
Fifth, open up your browser and type "about:debug" in the URL bar.
Sixth, Go to Settings->Debug then select "Desktop" under "UA String". This will trick Hulu (and other websites) into thinking that your Tab 10.1 is a desktop computer.
(Note: If you don't get Debug menu then try typing "about:debug" in the URL bar again.)
Seventh, open up Hulu.com on your browser and enjoy.
Credits to user shep211 at XDA for the modified Flash Player! (Don't forget to donate to him if this has enriched your Tab 10.1 experience!)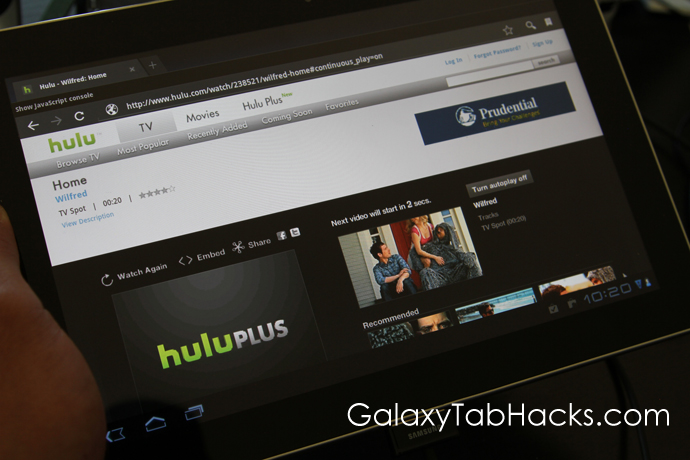 If you like this post, please CLICK HERE to subscribe to my YouTube channel, THANKS A TON BUD, I OWE YOU ONE!
Want to stay updated on latest Galaxy Tab hacks and tips?
Sign up for our Galaxy Tab Hacks Newsletter here so you don't miss a single tip!
Recent Android News from HighOnAndroid.com