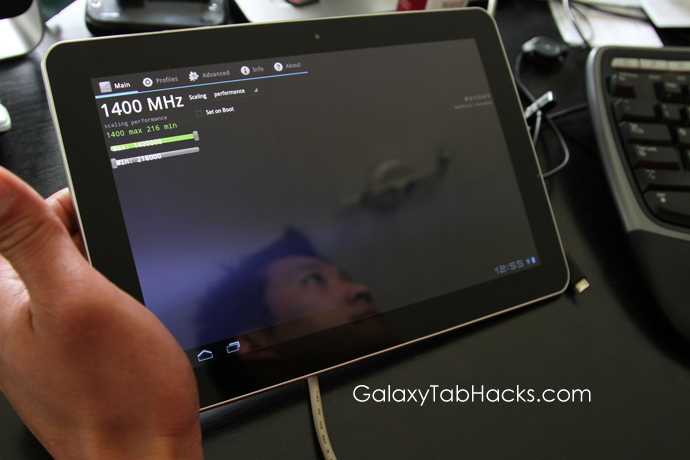 Thanks to the guys over at DroidBasement.com, you can now overclock your Galaxy Tab 10.1 to 1.4Ghz.  (that's dual-core overclocking!  each 1Ghz processor overclocked to 1.4Ghz)
The result?  Not too shabby, my Galaxy Tab 10.1 went from 50ish scores on Linkpack to near 80MFLOPs.  That's about 60% increase in the Tab 10.1′s speed.
As far as battery life, with SetCPU app set on "ondemand", it only uses 1.4Ghz when you are using CPU-intensive games.
So far, I haven't had any problems with it, it seems to be pretty stable.
Before flashing the new 1.4Ghz kernel, you can backup your current rooted ROM so you can go back to your stock kernel if any  problems arise.  (You can read up on how to backup/restore ROM on your Galaxy Tab 10.1.)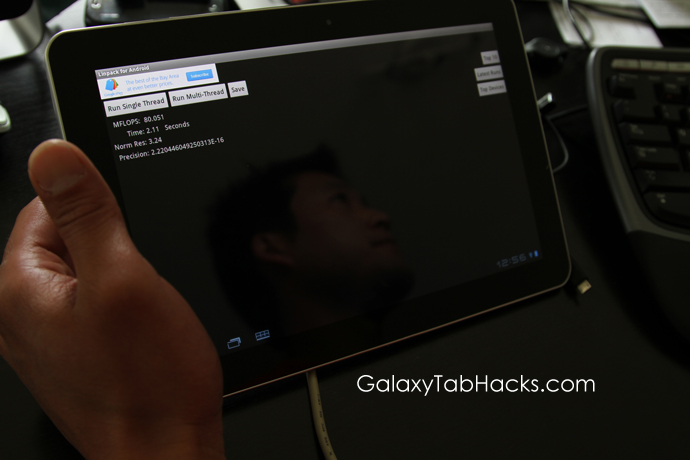 How to Overclock your Galaxy Tab 10.1 to 1.4Ghz!
You will need to download the following kernel zip file and copy over to the root directory of your Tab 10.1′s internal storage.
Download 1.4Ghz kernel
Next, reboot into Recovery from ROM Manager.
Once in ClockworkMod Recovery, simply zip the file you copied over earlier via "Install zip from /sdcard".
Reboot, then download latest version of setCPU(you can also donate by buying on the Market), unzip the zip file, and install it using a file manager app such as the free AndroZip, available at the Market.
Having problems?  Just watch this video as I took while I installed the overclocking kernel on my Galaxy Tab 10.1:
If you like this post, please CLICK HERE to subscribe to my YouTube channel, THANKS A TON BUD, I OWE YOU ONE!
Want to stay updated on latest Galaxy Tab hacks and tips?
Sign up for our Galaxy Tab Hacks Newsletter here so you don't miss a single tip!
Recent Android News from HighOnAndroid.com